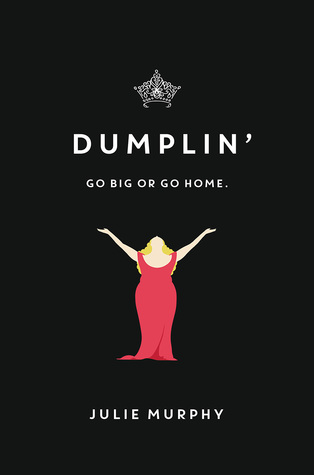 Self-proclaimed fat girl Willowdean Dickson (dubbed "Dumplin'" by her former beauty queen mom) has always been at home in her own skin. Her thoughts on having the ultimate bikini body? Put a bikini on your body. With her all-American beauty best friend, Ellen, by her side, things have always worked…until Will takes a job at Harpy's, the local fast-food joint. There she meets Private School Bo, a hot former jock. Will isn't surprised to find herself attracted to Bo. But she is surprised when he seems to like her back.
Instead of finding new heights of self-assurance in her relationship with Bo, Will starts to doubt herself. So she sets out to take back her confidence by doing the most horrifying thing she can imagine: entering the Miss Clover City beauty pageant—along with several other unlikely candidates—to show the world that she deserves to be up there as much as any twiggy girl does. Along the way, she'll shock the hell out of Clover City—and maybe herself most of all.
I can't believe I didn't read this book sooner! I didn't pick it up until late, and by that point I'd broken an important bookworm code and watched the movie. 90% of the time I will read the book first, but this time I just happened to watch the Dumplin' adaptation with my boyfriend when it came out and we both loved it!
I don't think watching the movie first impacted my opinion too much – thank God they stayed very similar with the adaptation – but I did picture all of the characters as they are in the movie. So Will's mum was Jennifer Aniston all the way.
'All my life I've had a body worth commenting on'
Anyway, onto the book! Honestly, I loved it so much and it flew by. I haven't been reading overly fast recently I guess, but I read this one in under 2 days. It was so unexpected, but this is one of those books I could just sit and read for hours on end and not even watch the page numbers. It had such a good flow and pace, and I adored it.
As for the characters, I loved them all. I had my issues with Will but the fact she's not always perfect is kind of the point. She's growing up and it's such a great coming-of-age story. She learns throughout the book and I love that El called bulls**t on her. No one in this story is perfect, everyone is flawed and that felt so real and relatable. I loved how proud she was of her own body, and it made me so proud of her too.
'and if living in my skin has taught me anything it's that if it's not your body, it's not yours to comment on.'
Honestly, this book was such a pleasant surprise. YA contemporary was my favourite genre for a long time, but I'm just not in that space anymore. And I'm completely fine with that. Having said that, coming across gems every once in a while is so lovely. I don't think I'll ever completely stop reading the genre, and this book is proof of how much I love the odd one!
★★★★
4 out of 5 stars
-Beth
May your shelves forever overflow with books! ☽
| Shop | Goodreads | Instagram | Tumblr | Twitter | Facebook |