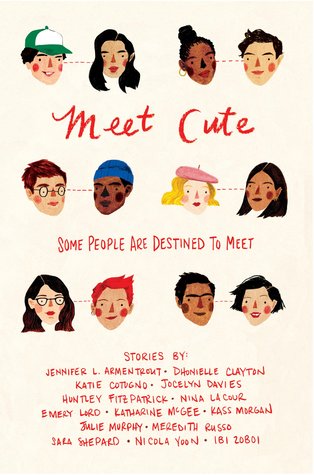 Whether or not you believe in fate, or luck, or love at first sight, every romance has to start somewhere. MEET CUTE is an anthology of original short stories featuring tales of "how they first met" from some of today's most popular YA authors.
Readers will experience Nina LaCour's beautifully written piece about two Bay Area girls meeting via a cranky customer service Tweet, Sara Shepard's glossy tale about a magazine intern and a young rock star, Nicola Yoon's imaginative take on break-ups and make-ups, Katie Cotugno's story of two teens hiding out from the police at a house party, and Huntley Fitzpatrick's charming love story that begins over iced teas at a diner. There's futuristic flirting from Kass Morgan and Katharine McGee, a riveting transgender heroine from Meredith Russo, a subway missed connection moment from Jocelyn Davies, and a girl determined to get out of her small town from Ibi Zoboi. Jennifer Armentrout writes a sweet story about finding love from a missing library book, Emery Lord has a heartwarming and funny tale of two girls stuck in an airport, Dhonielle Clayton takes a thoughtful, speculate approach to pre-destined love, and Julie Murphy dreams up a fun twist on reality dating show contestants.
This incredibly talented group of authors brings us a collection of stories that are at turns romantic and witty, epic and everyday, heartbreaking and real.
I'm always a little hesitant when it comes to short story collections, because they can be so hit and miss. But this one didn't let me down, and overall I enjoyed all of the stories in some capacity. In some ways the stories being so short (20-30 pages each) was good, because I didn't have to spend too much time on those I didn't like as much.
I really liked the concept of these books, with each short story being about two people meeting, and you have no idea where the relationship heads afterwards. It's such a cute idea, and leaves a lot up to the imagination of the reader! A few of these were LGBTQIA+ and diverse in other ways, including race and a plus size character.
'"What do you think the difference between wanting to be friends and wanting to be more than friends is?"'
As with anthologies, this book included many different concepts that varied by author. This was so fun – we had a lot of contemporary, but also some magical realism and fantasy! I'm going to go through each one to give my opinions.
Siege Etiquette by Katie Cotungo ★★
This story was about two people meeting in the bathroom at a party and kind of hitting it off. Unfortunately it felt flat to me, had a weird writing style I wasn't used to, and I really didn't see the connection between the characters. A poor start!
Print Shop by Nina LaCour ★★★★★
Thankfully, the book greatly improved for me with Nina LaCour, who frankly will never let me down. I love the creative idea, with the main character working in a print shop and meeting one of her clients when her order went wrong. Very cute with great characters!
Hourglass by Ibi Zoboi ★★★
I don't want to give this a bad rating but the fact I don't remember anything that happened is really not a good sign? It definitely wasn't all bad, featuring a girl who doesn't want to go to prom and her friend who does. Great diversity with a cute ending, but unfortunately very forgettable.
Click by Katherine McGee ★★★★
This one featured an interesting futuristic concept where people meet via an app in which they are matched with others. It reminded me of the Black Mirror episode Hang the DJ, and I really enjoyed it. It had a unique concept that stood out for me, and sent out a good message!
The Intern by Sara Shepard ★★★
Another one which wasn't bad as such but was just lacking. Of course this book includes many stories and it's hard to stand out from the crowd, and this one blended in too much for me. It was very insta love, with a celebrity and intern who worked at a music shop.
Somewhere That's Green by Meredith Russo ★★★★
This story included a transgender character and a character struggling with accepting her sexuality. They had great chemistry and an interesting story. I loved the different PsOV, and found the characters compelling and touching.
The Way We Love Here by Dhonielle Clayton ★★★★
The only fantasy story in this collection and that definitely made it memorable! I'm not usually one for stories like this, but I really enjoyed it. The two main characters are born on an island where everyone has soulmate bands that lessen as the date to meeting their soulmate gets closer. It was so touching and heartwarming with enough twists to keep me on my toes.
Oomph by Emery Lord ★★★★
I read a review on Goodreads that describes this story as a Hayley Kiyoko song, and I cannot describe it better. Two girls meet in an airport, and one overcomes her anxieties to connect with the other. Overall, a fluffy and cute read that worked.
The Dictionary of You and Me by Jennifer L. Armentrout ★★★★
Another really cute read, but set in a library. Yes, the perfect setting for bibliophiles to read a romance story set in. This story was so sweet and touching, and I loved the awkward but adorable characters.
The Unlikely Likelihood of Falling in Love – Jocelyn Davis ★★★★★
This story was definitely one of my favourites, and followed a girl studying the statistic of whether she was going to see a guy she was attracted to on the subway. I loved it all. The concept, the characters (the classmates were super cute), the setting. So well executed!
259 Million Miles by Kass Morgan ★★★
This one focuses on two people interviewing to be sent off on a mission to mars, and end up being locked in a room for 24 hours as part of their interviews. I loved the concept, but the ending really let it down. I just didn't feel enough hope for these guys to be honest.
Something Real by Julie Murphy ★★★
This story was cute, and had really good elements, but I also didn't click with it as much as I'd have liked. It featured two girls competing for a date on a reality TV show, and ended up liking each other instead. It was definitely the funniest of the stories, but something felt so cliche about it and let it down a little.
Say Everything by Huntley Fitzpatrick ★★
I had such high hopes for this story because of how much I love My Life Next Door, but ugh, no. It focuses on a waitress going on a date with one of her customers, and then finds out she has a weird connection to him. This one just felt kind of creepy and sinister, and didn't work for me in such a short format? It needed more explanation to work!
The Department of Dead Love by Nicola Yoon ★★★★★
I loved this one. Of course Nicola Yoon wouldn't let me down! This story is set in a futuristic world where you can have your memories of someone erased, have relationships studied by experts etc. and that's what our main character thinks he wants. It had such a cute twist and I adored the concept.
'"Some people you want to get to know and some people you want to know you. I think that's the difference."'
So overall, such a mix of short stories, but only let down by a few. I'd love to go back and read my favourites sometime, and it's definitely a book you can just pick up if you want a heartwarming read.
★★★★
4 out of 5 stars
-Beth
May your shelves forever overflow with books! ☽
| Shop | Goodreads | Instagram | Tumblr | Twitter | Facebook |