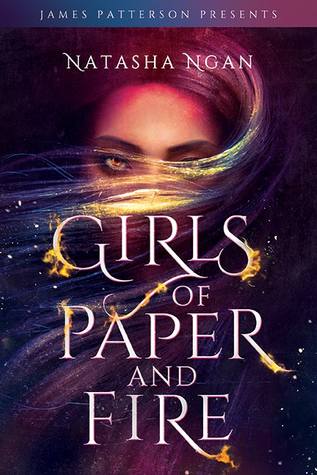 Each year, eight beautiful girls are chosen as Paper Girls to serve the king. It's the highest honor they could hope for…and the most cruel.
But this year, there's a ninth girl. And instead of paper, she's made of fire.
In this lush fantasy, Lei is a member of the Paper caste, the lowest and most oppressed class in Ikhara. She lives in a remote village with her father, where the decade-old trauma of watching her mother snatched by royal guards still haunts her. Now, the guards are back, and this time it's Lei they're after–the girl whose golden eyes have piqued the king's interest.
Over weeks of training in the opulent but stifling palace, Lei and eight other girls learn the skills and charm that befit being a king's consort. But Lei isn't content to watch her fate consume her. Instead, she does the unthinkable–she falls in love. Her forbidden romance becomes enmeshed with an explosive plot that threatens the very foundation of Ikhara, and Lei, still the wide-eyed country girl at heart, must decide just how far she's willing to go for justice and revenge.
It's been a while since I'v read a good fantasy, and this one was just a delight to dive into. I admired this book so much, it was such an immersive experience with beautiful writing, and I'm so glad I picked it up.
Girls of Paper and Fire follows a world with 3 castes, Paper (fully human) being the lowest, followed by Steel (partly demon) and Moon (fully demon, with animal like qualities). The premise is somewhat like The Selection series, with 8 Paper girls being chosen each year to please the King, who is of the highest caste. This story follows Lei, who was unexpectedly chosen and taken away from her family to become a Paper girl, and seeks revenge for an attack on her village that killed her mother.
'But time has a way of folding itself, like a map, distances and journeys and hours and minutes tucked neatly away to leave just the realness of the before and the now,'
I say this book is like The Selection, but the likeliness stops there. This book, this world, holds so much more. More depth, more emotion, more intrigue and fight and hardship. It's no secret that this book tackles some difficult topics, such as sexual abuse, and even though I was prepared, I was left with tears in my eyes in parts. Despite, or maybe because of these difficult subjects, this book is just so powerful.
The politics were interesting to read about and I loved hearing the side of the story from the people who wanted revenge against the Palace. It balanced out perfectly with the gentle friendships the girls found in each other, a unique bond with intriguing characters I could easily read more about.
'as close as hands pressed on the either side of a rice-paper door.'
The romance that blossoms within this story is beautiful, powerful and healthy. I found myself being reminded of my own relationship and seeing reflections of how myself and my partner support each other, and it was so lovely to read about. I won't say too much to avoid spoilers, but it felt so wholesome and made me love the characters even more.
The only small problem I had with this book was the pacing at the beginning. Unfortunately, it took me a good few days to get through the first 100 pages, but after that I couldn't put it down! I was soon whirled away with the lovingly written landscapes, friendships, romances, action and much more. In fact, I want to end by saying the writing was just incredible. I saw a Goodreads review describing it as sensuous, and that is just spot on. Ngan has such a way with words, that resonated with me and has stolen my heart.
★★★★★
5 out of 5 stars
-Beth
May your shelves forever overflow with books! ☽
| Shop | Goodreads | Instagram | Tumblr | Twitter | Facebook |