Hello all! I'm back with my August Wrap Up and September TBR. I actually managed to read 10 books in August, which was weirdly my best month so far this year! I'm pretty proud of that. I also managed to read all of the books on my August TBR!
Books I Read in August
Review | Goodreads | Waterstones
In an apartment block, the son of a black mother and a Latino father is coming of age. He's working at his family's restaurant, trying to dodge his brother's fists and resenting his older sister's absence. He's also discovering he likes boys…
All around him his friends and neighbours experience the tumult of living in the margins. Their stories – of living, thriving and dying across the city's myriad neighbourhoods – are stitched throughout the boy's life to reveal a young woman caught out in an affair, the fortunes of a rag-tag baseball team and a group of young hustlers, a local drug dealer who takes a Guatemalan teen under his wing, and the fate of a camera-shy mythical beast. With brilliant and soulful insight into what makes a community, a family and a life, Lot is about love in all its unsparing and unsteady forms.
I read this as part of a blog tour and it was really interesting.
Review | Goodreads | Waterstones
Georgia has never been in love, never kissed anyone, never even had a crush – but as a fanfic-obsessed romantic she's sure she'll find her person one day.
As she starts university with her best friends, Pip and Jason, in a whole new town far from home, Georgia's ready to find romance, and with her outgoing roommate on her side and a place in the Shakespeare Society, her 'teenage dream' is in sight.
But when her romance plan wreaks havoc amongst her friends, Georgia ends up in her own comedy of errors, and she starts to question why love seems so easy for other people but not for her. With new terms thrown at her – asexual, aromantic – Georgia is more uncertain about her feelings than ever.
Is she destined to remain loveless? Or has she been looking for the wrong thing all along?
I was so excited to finally read Loveless and it was so good!
Review | Goodreads | Waterstones
Enthusiastic but not desperate; calm but not dull; funny but not try-hard; sparky but not crazy; feisty but not aggressive; beautiful but relatable; elegant but not icy; confident but not arrogant; feminine but not girly; nice but not boring.
Faith Valentine has it all – fame, money and extraordinary beauty. But what she wants more than anything is a quiet life away from the cameras. Except nobody ever asks Faith what she wants, and her family's expectations are crushing her.The world thinks she's perfect, but is there is more to perfection than meets the eye?
I picked this up as part of a blog tour and I read it within a day!
Review | Goodreads | Waterstones
Los Angeles, 1992
Ashley Bennett and her friends are living the charmed life. It's the end of high school and they're spending more time at the beach than in the classroom. They can already feel the sunny days and endless possibilities of summer.
But everything changes one afternoon in April, when four police officers are acquitted after beating a black man named Rodney King half to death. Suddenly, Ashley's not just one of the girls. She's one of the black kids.
As violent protests engulf LA and the city burns, Ashley tries to continue on as if life were normal. Even as her self-destructive sister gets dangerously involved in the riots. Even as the model black family facade her wealthy and prominent parents have built starts to crumble. Even as her best friends help spread a rumor that could completely derail the future of her classmate and fellow black kid, LaShawn Johnson.
I received a copy of this on Netgalley and it was so good, I've since bought myself a paperback copy!
Review | Goodreads | Waterstones
Soldier. Summoner. Saint. Orphaned and expendable, Alina Starkov is a soldier who knows she may not survive her first trek across the Shadow Fold – a swath of unnatural darkness crawling with monsters. But when her regiment is attacked, Alina unleashes dormant magic not even she knew she possessed.
Now Alina will enter a lavish world of royalty and intrigue as she trains with the Grisha, her country's magical military elite – and falls under the spell of their notorious leader, the Darkling. He believes Alina can summon a force capable of destroying the Shadow Fold and reuniting their war-ravaged country, but only if she can master her untamed gift.
As the threat to the kingdom mounts and Alina unlocks the secrets of her past, she will make a dangerous discovery that could threaten all she loves and the very future of a nation.
Welcome to Ravka . . . a world of science and superstition where nothing is what it seems.
I loved this series and I read the first one in a day!
Review | Goodreads | Waterstones
Soldier. Summoner. Saint. Alina Starkov's power has grown, but not without a price. She is the Sun Summoner – hunted across the True Sea, haunted by the lives she took on the Shadow Fold. But she and Mal can't outrun their enemies for long.
The Darkling is more determined than ever to claim Alina's magic and use it to take the Ravkan throne. With nowhere else to turn, Alina enlists the help of an infamous privateer and sets out to lead the Grisha army.
But as the truth of Alina's destiny unfolds, she slips deeper into the Darkling's deadly game of forbidden magic, and further away from her humanity. To save her country, Alina will have to choose between her power and the love she thought would always be her shelter. No victory can come without sacrifice – and only she can face the oncoming storm.
I liked the second book just as much and read it quickly too!
Review | Goodreads | Waterstones
The Darkling rules Ravka from his shadow throne.
Now the nation's fate rests with a broken Sun Summoner, a disgraced tracker, and the shattered remnants of a once-great magical army.
Deep in an ancient network of tunnels and caverns, a weakened Alina must submit to the dubious protection of the Apparat and the zealots who worship her as a Saint. Yet her plans lie elsewhere, with the hunt for the elusive firebird and the hope that an outlaw prince still survives.
Alina will have to forge new alliances and put aside old rivalries as she and Mal race to find the last of Morozova's amplifiers. But as she begins to unravel the Darkling's secrets, she reveals a past that will forever alter her understanding of the bond they share and the power she wields. The firebird is the one thing that stands between Ravka and destruction—and claiming it could cost Alina the very future she's fighting for.
It took me a little longer to read the third book but I still enjoyed it!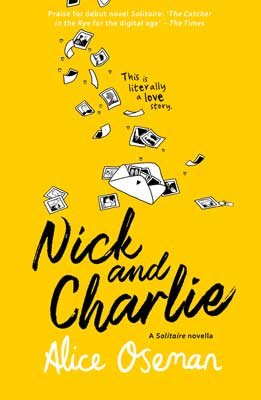 Review | Goodreads | Waterstones
CHARLIE: "I have been going out with Nick Nelson for two years. He likes rugby, Formula 1, dogs, the Marvel universe, the sound felt-tips make on paper, rain and drawing on shoes. He also likes me."
NICK: "Things me and Charlie Spring do together include: Watch films. Sit in the same room on different laptops. Text each other from different rooms. Make out. Make food. Make drinks. Get drunk. Talk. Argue. Laugh. Maybe we're kind of boring. But that's fine with us."
Everyone knows that Nick and Charlie are the perfect couple – that they're inseparable. But now Nick is leaving for university, and Charlie will be left behind at Sixth Form. Everyone's asking if they're staying together, which is a stupid question – they're 'Nick and Charlie' for God's sake!
But as the time to say goodbye gets inevitably closer, both Nick and Charlie question whether their love is strong enough to survive being apart. Or are they delaying the inevitable? Because everyone knows that first loves rarely last forever …
I adored Nick and Charlie so much, it was so beautiful.
Review | Goodreads | Waterstones
When Amber runs, it's the only time she feels completely free – far away from her claustrophobic home life. Her father wants her to be a dutiful daughter, waiting for an arranged marriage like her sister Ruby.
Running is a quiet rebellion. But Amber wants so much more – and she's ready to fight for it.
It's time for a revolution.
This book was so amazing, I passed it over to my mum and she loved it too!
Review | Goodreads | Waterstones
Camino Rios lives for the summers when her father visits her in the Dominican Republic. But this time, on the day when his plane is supposed to land, Camino arrives at the airport to see crowds of crying people…
In New York City, Yahaira Rios is called to the principal's office, where her mother is waiting to tell her that her father, her hero, has died in a plane crash.
Separated by distance – and Papi's secrets – the two girls are forced to face a new reality in which their father is dead and their lives are forever altered. And then, when it seems like they've lost everything of their father, they learn of each other.
Papi's death uncovers all the painful truths he kept hidden, and the love he divided across an ocean. And now, Camino and Yahaira are both left to grapple with what this new sister means to them, and what it will now take to keep their dreams alive.
I then read another verse novel and loved this one too!
Overall, I had a really good month! My favourite was Loveless and my least favourite was Lot.
Books I Want to Read in September
Knife Edge (#2) – Malorie Blackman
Checkmate (#3) – Malorie Blackman
Double Cross (#4) – Malorie Blackman
I only want to read the rest of the Noughts and Crosses series (that I own) this month, and I might even do a random pick of some others to read!
What did you read in August and what do you want to read in September?
-Beth
May your shelves forever overflow with books! ☽
| Shop | Goodreads | Instagram | Tumblr | Twitter | Facebook |