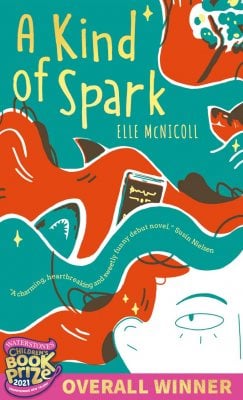 A Kind of Spark tells the story of 11-year-old Addie as she campaigns for a memorial in memory of the witch trials that took place in her Scottish hometown. Addie knows there's more to the story of these 'witches', just like there is more to hers.
Can Addie challenge how the people in her town see her, and make her voice heard? A story about friendship, courage and self-belief, perfect for fans of The Goldfish Boy, Addie's story was born from Elle's own experiences of neurodiversity and her commitment to seeing greater representation in children's books
Elle McNicoll strikes again (or maybe she did with Show Us Who You Are, but I read them the other way around)! Ever since I read Show Us Who You Are and it absolutely blew me away, I knew I needed to pick this up. And let me tell you, it did not disappoint. I fell in love with this book almost immediately, and Addie made for an amazing main character.
Addie is 11 years old and is autistic. She is struggling in school with an unkind teacher and trying to fight for something really important to her. I love how honest this book is and how much this book discusses autism and all of the things that come with being autistic. Although the same for Cora in Show Us Who You Are, I feel like Addie touches more on things like stimming, masking and generally day to day life as an autistic child. I really loved the transparency this offers to the reader and how much insight we have about Addie's life.
Someone being autistic is the same as being left-handed or color blind.
Although this book does focus a lot on Addie's autism, we also have an exciting plot about Addie finding out about the witch trials that took place in her village. Following her grow in courage throughout this plot was so heartwarming, and I just wanted to cheer her on from the sidelines throughout. I felt everything so viscerally, and I found myself tingling all over in the last few pages.
The writing was so easy to follow and tackles difficult subjects so well. I can only imagine how accessible this book is for children and I really admire how Elle writes. I read this with Courtney and we both read it in one sitting together! The characters were also so likable and Addie's family especially were just so heartwarming to read about. Addie's older sister, Keedie, is also autistic and I feel like having another autistic character that Addie feels completely herself around added such a lovely layer to the story. I also really enjoyed reading about Keedie's life in university and her own experiences of masking.
It means we all experience the world differently.
This is a book that every child needs to read. I have no doubts that it will make autistic children feel so seen, but will also teach so many children empathy for those around them. It is a lesson for us all about kindness, empathy, understanding and compassion. I adored it.
★★★★★
5 out of 5 stars
-Beth
May your shelves forever overflow with books! ☽
Shop | Booktube | Goodreads | Instagram | Tumblr | Twitter | Facebook