I can't believe it's time for my August wrap-up already and that we're heading in to the autumn season. I'm super excited for some autumnal reads, but I also managed to read 14 books in August. That's the same amount as I read in July and I'm pretty happy with that! You can also find my August wrap-up on my YouTube channel below.
Books I read in August
Review | Goodreads | Waterstones
Everyone has a reason to fear the boy with the gun…
10:00 a.m.: The principal of Opportunity, Alabama's high school finishes her speech, welcoming the entire student body to a new semester and encouraging them to excel and achieve.
10:02 a.m.: The students get up to leave the auditorium for their next class.
10:03: The auditorium doors won't open.
10:05: Someone starts shooting.
In 54 minutes, four students must confront their greatest hopes, and darkest fears, as they come face-to-face with the boy with the gun.
★★★★
4 out of 5 stars
Review | Goodreads | Waterstones
★★★★
3.5 out of 5 stars
Cee has been trapped on an abandoned island for three years without any recollection of how she arrived, or memories from her life prior. All she knows is that somewhere out there, beyond the horizon, she has a sister named Kay, and it's up to Cee to cross the ocean and find her.
In a world apart, 16-year-old STEM prodigy Kasey Mizuhara lives in an eco-city built for people who protected the planet―and now need protecting from it. With natural disasters on the rise due to climate change, eco-cities provide clean air, water, and shelter. Their residents, in exchange, must spend at least a third of their time in stasis pods, conducting business virtually whenever possible to reduce their environmental footprint. While Kasey, an introvert and loner, doesn't mind the lifestyle, her sister Celia hated it. Popular and lovable, Celia much preferred the outside world. But no one could have predicted that Celia would take a boat out to sea, never to return.
Now it's been three months since Celia's disappearance, and Kasey has given up hope. Logic says that her sister must be dead. But nevertheless, she decides to retrace Celia's last steps. Where they'll lead her, she does not know. Her sister was full of secrets. But Kasey has a secret of her own.
★★★★
4 out of 5 stars
Review | Goodreads | Waterstones
Amari Peters knows three things.
Her big brother Quinton has gone missing.
No one will talk about it.
His mysterious job holds the secret . . .
So when Amari gets an invitation to the Bureau of Supernatural Affairs, she's certain this is her chance to find Quinton. But first she has to get her head around the new world of the Bureau, where mermaids, aliens and magicians are real, and her roommate is a weredragon.
Amari must compete against kids who've known about the supernatural world their whole lives, and when each trainee is awarded a special supernatural talent, Amari is given an illegal talent – one that the Bureau views as dangerous.
With an evil magician threatening the whole supernatural world, and her own classmates thinking she is the enemy, Amari has never felt more alone. But if she doesn't pass the three tryouts, she may never find out what happened to Quinton . . .
★★★★
4 out of 5 stars
Review | Goodreads | Waterstones
When a mysterious sailor dies in sinister circumstances at the Admiral Benbow inn, young Jim Hawkins stumbles across a treasure map among the dead man's possessions. But Jim soon becomes only too aware that he is not the only one who knows of the map's existence, and his bravery and cunning are tested to the full when, with his friends Squire Trelawney and Dr Livesey, he sets sail in the Hispaniola to track down the treasure. With its swift-moving plot and memorably drawn characters – Blind Pew and Black Dog, the castaway Ben Gunn and the charming but dangerous Long John Silver – Stevenson's tale of pirates, treachery and heroism was an immediate success when it was first published in 1883 and has retained its place as one of the greatest of all adventure stories.
★★★★
3.5 out of 5 stars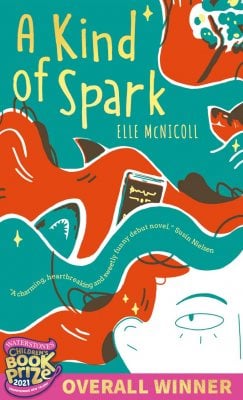 Review | Goodreads | Waterstones
A Kind of Spark tells the story of 11-year-old Addie as she campaigns for a memorial in memory of the witch trials that took place in her Scottish hometown. Addie knows there's more to the story of these 'witches', just like there is more to hers.
Can Addie challenge how the people in her town see her, and make her voice heard? A story about friendship, courage and self-belief, perfect for fans of The Goldfish Boy, Addie's story was born from Elle's own experiences of neurodiversity and her commitment to seeing greater representation in children's books.
★★★★★
5 out of 5 stars
Review | Goodreads | Waterstones
Olivia is an expert at falling in love . . . and at being dumped. But after the fallout from her last breakup has left her an outcast at school and at home, she's determined to turn over a new leaf. A crush-free weekend at Farmland Music and Arts Festival with her best friend is just what she needs to get her mind off the senior year that awaits her.
Toni is one week away from starting college, and it's the last place she wants to be. Unsure about who she wants to become and still reeling in the wake of the loss of her musician-turned-roadie father, she's heading back to the music festival that changed his life in hopes that following in his footsteps will help her find her own way forward.
When the two arrive at Farmland, the last thing they expect is to realize that they'll need to join forces in order to get what they're searching for out of the weekend. As they work together, the festival becomes so much more complicated than they bargained for, and Olivia and Toni will find that they need each other, and music, more than they ever could have imagined.
★★★★★
4.5 out of 5 stars
Review | Goodreads | Waterstones
Ash Persaud is about to become a reaper in the afterlife, but she is determined to see her first love Poppy Morgan again, the only thing that separates them is death.
Car headlights.
The last thing Ash hears is the snap of breaking glass as the windscreen hits her and breaks into a million pieces like stars.
But she made it, she's still here. Or is she?
This New Year's Eve, Ash is gets an RSVP from the afterlife she can't decline: to join a clan of fierce girl reapers who take the souls of the city's dead to await their fate.
But Ash can't forget her first love, Poppy, and she will do anything to see her again… even if it means they only get a few more days together. Dead or alive…
★★★★★
5 out of 5 stars
Review | Goodreads | Waterstones
Ever felt anxious or alone? Like you don't belong anywhere? Like you're almost… invisible? Find your kindred spirits at The Sad Ghost Club.
This is the story of one of those days – a day so bad you can barely get out of bed, when it's a struggle to leave the house, and when you do, you wish you hadn't. But even the worst of days can surprise you. When one sad ghost, lost and alone at a crowded party, spies another sad ghost across the room, they decide to leave together. What happens next changes everything. Because that night they start the The Sad Ghost Club – a secret society for the anxious and alone, a club for people who think they don't belong.
★★★★★
5 out of 5 stars
Review | Goodreads | Waterstones
A magical island. A dangerous task. A burning secret.
Linus Baker leads a quiet, solitary life. At forty, he lives in a tiny house with a devious cat and his old records. As a Case Worker at the Department in Charge Of Magical Youth, he spends his days overseeing the well-being of children in government-sanctioned orphanages.
When Linus is unexpectedly summoned by Extremely Upper Management he's given a curious and highly classified assignment: travel to Marsyas Island Orphanage, where six dangerous children reside: a gnome, a sprite, a wyvern, an unidentifiable green blob, a were-Pomeranian, and the Antichrist. Linus must set aside his fears and determine whether or not they're likely to bring about the end of days.
But the children aren't the only secret the island keeps. Their caretaker is the charming and enigmatic Arthur Parnassus, who will do anything to keep his wards safe. As Arthur and Linus grow closer, long-held secrets are exposed, and Linus must make a choice: destroy a home or watch the world burn.
★★★★★
5 out of 5 stars
Review | Goodreads | Waterstones
For cynical twenty-three-year-old August, moving to New York City is supposed to prove her right: that things like magic and cinematic love stories don't exist, and the only smart way to go through life is alone. She can't imagine how waiting tables at a 24-hour pancake diner and moving in with too many weird roommates could possibly change that. And there's certainly no chance of her subway commute being anything more than a daily trudge through boredom and electrical failures.
But then, there's this gorgeous girl on the train.
Jane. Dazzling, charming, mysterious, impossible Jane. Jane with her rough edges and swoopy hair and soft smile, showing up in a leather jacket to save August's day when she needed it most. August's subway crush becomes the best part of her day, but pretty soon, she discovers there's one big problem: Jane doesn't just look like an old school punk rocker. She's literally displaced in time from the 1970s, and August is going to have to use everything she tried to leave in her own past to help her. Maybe it's time to start believing in some things, after all.
★★★★★
5 out of 5 stars
Review | Goodreads | Waterstones
Bryce Quinlan had the perfect life—working hard all day and partying all night—until a demon murdered her closest friends, leaving her bereft, wounded, and alone. When the accused is behind bars but the crimes start up again, Bryce finds herself at the heart of the investigation. She'll do whatever it takes to avenge their deaths.
Hunt Athalar is a notorious Fallen angel, now enslaved to the Archangels he once attempted to overthrow. His brutal skills and incredible strength have been set to one purpose—to assassinate his boss's enemies, no questions asked. But with a demon wreaking havoc in the city, he's offered an irresistible deal: help Bryce find the murderer, and his freedom will be within reach.
As Bryce and Hunt dig deep into Crescent City's underbelly, they discover a dark power that threatens everything and everyone they hold dear, and they find, in each other, a blazing passion—one that could set them both free, if they'd only let it.
★★★★
4 out of 5 stars
I honestly had such an amazing reading month in terms of liking the books I read, I can't remember the last time I had this many 4 and 5 star reads in a month! It's hard to pick my favourite, but The House in the Cerulean Sea absolutely blew me away. My least favourite was Treasure Island, but I wouldn't say I disliked any of my August reads.
What did you read in August?
-Beth
May your shelves forever overflow with books! ☽
Shop | Booktube | Goodreads | Instagram | Tumblr | Twitter | Facebook