Stacking the Shelves is a weekly meme hosted by Tynga where we share books we've bought or received this week. Find out more and join in here!
Hi readers! I've been buying more books again recently and I seemingly can't keep away! I've been lucky to receive some preorders in the past few weesks too which has been really exciting.
Bought
Greece in the age of Heroes. Patroclus, an awkward young prince, has been exiled to the kingdom of Phthia. Here he is nobody, just another unwanted boy living in the shadow of King Peleus and his golden son, Achilles.
Achilles, "best of all the Greeks," is everything Patroclus is not—strong, beautiful, the child of a goddess—and by all rights their paths should never cross. Yet one day, Achilles takes the shamed prince under his wing and soon their tentative connection gives way to a steadfast friendship. As they grow into young men skilled in the arts of war and medicine, their bond blossoms into something far deeper—despite the displeasure of Achilles' mother Thetis, a cruel sea goddess with a hatred of mortals.
Fate is never far from the heels of Achilles. When word comes that Helen of Sparta has been kidnapped, the men of Greece are called upon to lay siege to Troy in her name. Seduced by the promise of a glorious destiny, Achilles joins their cause. Torn between love and fear for his friend, Patroclus follows Achilles into war, little knowing that the years that follow will test everything they have learned, everything they hold dear. And that, before he is ready, he will be forced to surrender his friend to the hands of Fate.
My preorder of this beautiful hardback anniversary edition of The Song of Achilles came through recently. Even though I haven't read this one yet I feel like I will really enjoy it and I couldn't resist this beautiful copy.
I've been waiting on this one to be reprinted and it finally came through! I've had the third one for a while and now I can finally read this one and carry on with the series.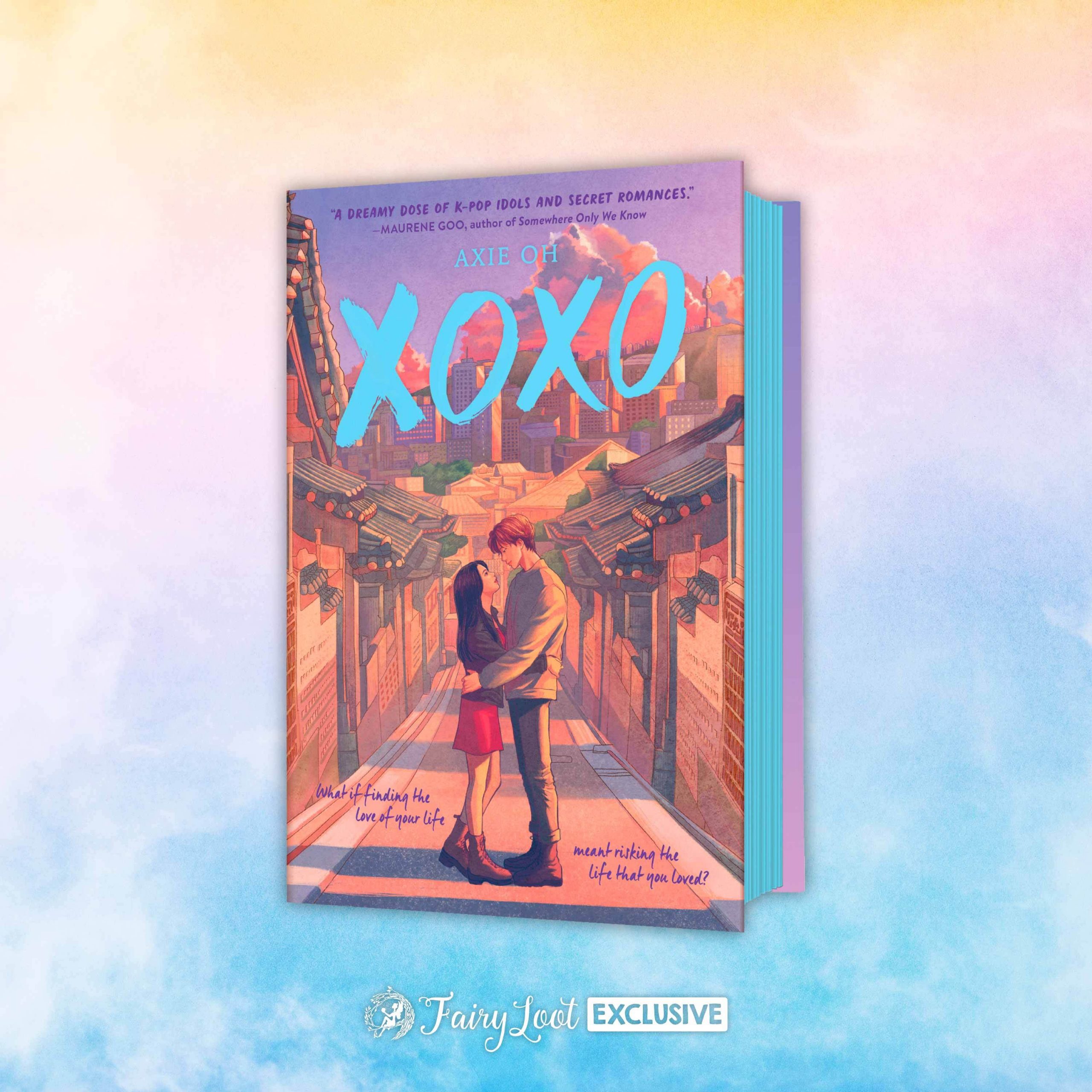 Cello prodigy Jenny has one goal: to get into a prestigious music conservatory. When she meets mysterious, handsome Jaewoo in her uncle's Los Angeles karaoke bar, it's clear he's the kind of boy who would uproot her careful plans. But in a moment of spontaneity, she allows him to pull her out of her comfort zone for one unforgettable night of adventure…before he disappears without a word.
Three months later, when Jenny and her mother arrive in South Korea to take care of her ailing grandmother, she's shocked to discover that Jaewoo is a student at the same elite arts academy where she's enrolled for the semester. And he's not just any student. He's a member of one of the biggest K-pop bands in the world—and he's strictly forbidden from dating.
When a relationship means throwing Jenny's life off the path she's spent years mapping out, she'll have to decide once and for all just how much she's willing to risk for love.
I also had a preorder of the Fairyloot edition of XOXO which is beautiful. I read a proof copy earlier in the year and loved it, so I'm really glad I picked up this copy!
Arthur Kipps, a junior solicitor in London, is summoned to Crythin Gifford to attend the funeral of Mrs Alice Drablow, and to sort through her papers before returning to London. It is here that Kipps first sees the woman in black and begins to gain an impression of the mystery surrounding her. From the funeral he travels to Eel Marsh House and sees the woman again; he also hears the terrifying sounds on the marsh.
Despite Kipps's experiences he resolves to spend the night at the house and fulfil his professional duty. It is this night at Eel Marsh House that contains the greatest horror for Kipps. Kipps later discovers the reasons behind the hauntings at Eel Marsh House. The book ends with the woman in black exacting a final, terrible revenge.
My mum and I visited a £3 bookshop and I grabbed a copy of The Woman in Black, as my boyfriend Mark suggested I read it and I wanted to pick it up in October.
In the same bookshop I also found Wayfarer, which I was missing from this duology. Maybe I will actually read the first one now I finally have both!
Gifted
Edited by award-winning journalist Charlie Brinkhust-Cuff and up-and-coming talent Timi Sotire, join twenty-eight inspirational voices in this uplifting and empowering anthology as they come together to celebrate being Black British, sharing their experiences of joy and what it means to them.
I was also lucky enough to receive a few books, including Black Joy. This one is non-fiction and it sounds really interesting – thank you to Penguin for sending this one to me!
Ash Persaud is about to become a reaper in the afterlife, but she is determined to see her first love Poppy Morgan again, the only thing that separates them is death.
Car headlights.
The last thing Ash hears is the snap of breaking glass as the windscreen hits her and breaks into a million pieces like stars.
But she made it, she's still here. Or is she?
This New Year's Eve, Ash is gets an RSVP from the afterlife she can't decline: to join a clan of fierce girl reapers who take the souls of the city's dead to await their fate.
But Ash can't forget her first love, Poppy, and she will do anything to see her again… even if it means they only get a few more days together. Dead or alive…
My lovely friend Amy also gave me some books, including the Fairyloot edition of Afterlove which I read in August and adored. Thank you so much for this one Amy!
When Addie LaRue makes a deal with devil, she trades her soul for immortality. But the devil takes away her place in the world, cursing her to be forgotten by everyone.
Addie flees her tiny home town in 18th-Century France, beginning a journey that takes her across the world, learning to live a life where no one remembers her and everything she owns is lost and broken. Existing only as a muse for artists throughout history, she learns to fall in love anew every single day.
Her only companion on this journey is her dark devil with hypnotic green eyes, who visits her each year on the anniversary of their deal. Alone in the world, Addie has no choice but to confront him, to understand him, maybe to beat him.
Until one day, in a second hand bookshop in Manhattan, Addie meets someone who remembers her. Suddenly thrust back into a real, normal life, Addie realises she can't escape her fate forever.
Amy also gifted me a US proof copy of The Invisible Life of Addie Larue, which is my favourite book ever! I feel very, very lucky to have been able to add it to my collection, thank you to Amy for making it happen!
Which books did you buy or receive this week?
-Beth
May your shelves forever overflow with books! ☽
Shop | Booktube | Goodreads | Instagram | Tumblr | Twitter | Facebook