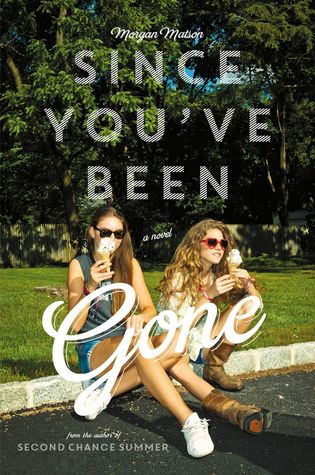 It was Sloane who yanked Emily out of her shell and made life 100% interesting. But right before what should have been the most epic summer, Sloane just…disappears. All she leaves behind is a to-do list.
On it, thirteen Sloane-inspired tasks that Emily would normally never try. But what if they could bring her best friend back?
Apple picking at night? Okay, easy enough.
Dance until dawn? Sure. Why not?
Kiss a stranger? Um…
Emily now has this unexpected summer, and the help of Frank Porter (totally unexpected), to check things off Sloane's list. Who knows what she'll find?
Go skinny-dipping? Wait…what?
This wasn't my favourite Morgan Matson book (Amy and Roger definitely still holds that title!), but I did still really enjoy it. I loved a lot about this book – but some things did disappoint me. For one, I kind of knew everything that was happening. Nothing shocked me or made me think Matson had written outside of her comfort zone – but I did find it very comforting to read.
This isn't necessarily a bad thing, it was a great contemporary summer read, but I did unfortunately have a few issues with it.
"Real friends are the ones you can count on no matter what."
So let's start with the good stuff! The whole friendship and mystery I really loved. I don't think I've read a book with a list to complete like this one did, and it definitelty made for good plot development.
I also loved the friendship between Dawn, Collins, Frank and Em. It felt really cute and real. I also think Em's family offered something we don't often see in YA, and I do love books with great relationships with family. Beckett made for such an adorable little brother!
"The ones who go into the forest to find you and bring you home."
Unfortunately I did have a few tiny niggles about this book, as I did with The Unexpected Everything. For one, the ending! As cute as it was for two characters, what happened to the others? Without spoilers, is Em forgiven by a certain girl? Or the other friend?
Another thing I have to mention is Slaone. As close as her and Em were, I have to say she just kind of…annoyed me. Like, she literally abandoned Slaone and Em just forgives her when she manages to get new friends. I felt like the ending of the book, and the whole road trip (without giving any spoilers), should have been…more important. Bigger, somehow.
"And real friends never have to tell you that they're your friends."
Other than that, I really loved this book. The love interest was really good, and even though it was predictable as I mentioned before, it was also relaxed and comforting. If you love a good summery contemporary or anything by Morgan Matson, I'd definitely recommend it!
★★★★
-Beth
May your shelves forever overflow with books! ☽
| Goodreads |Instagram | Tumblr | Twitter | YouTube | Facebook | Redbubble |