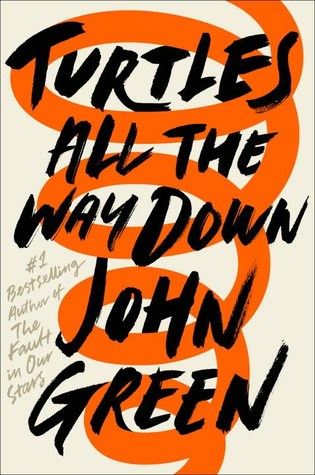 Sixteen-year-old Aza never intended to pursue the mystery of fugitive billionaire Russell Pickett, but there's a hundred-thousand-dollar reward at stake and her Best and Most Fearless Friend, Daisy, is eager to investigate. So together, they navigate the short distance and broad divides that separate them from Russell Pickett's son, Davis.
Aza is trying. She is trying to be a good daughter, a good friend, a good student, and maybe even a good detective, while also living within the ever-tightening spiral of her own thoughts.
As you may or may not know, I'm not a massive John Green fan. It's not like I hate him or anything, I just have really mixed opinions about his books. For me, The Fault in Our Stars is overhyped, Will Grayson, Will Grayson and An Abundance of Katherine's are not worth the read, Looking for Alaska is pretty good and Paper Towns is my favourite.
But nevertheless, Turtles All the Way Down got me intruiged. And the more of my friends that were reading (and loving) it, the more I wanted to find out what was so good. Before I continue, thank you to my lovely friend Pete for gifting me this book for my birthday!
I have to say, Turtles was a really pleasant surprise for me. Especially after struggling with Gemina, I really needed a good contemporary. And Green, for a change, didn't let me down!
I'm not going to say this book isn't niggle-free. It still niggled me in the classic way Green manages to get on my nerves. For a start, you can tell that these are his characters. The way he writes is still pretty pretensious, and the characters still talk like no person I have ever met – only seeming to have these big, important discussions about the sky.
But once I got past that this book is just unbelievably cheesy in some ways, I managed to accept it and enjoy it. And I enjoyed it a hell of a lot more than I expected to.
"We never really talked much or even looked at each other, but it didn't matter because we were looking at the same sky together, which is maybe even more intimate than eye contact anyway."
I have to appreciate the way Green wrote about mental health. Although it's an extremely subjective topic, I really felt for Aza and her situation. I felt an emotional connection to her and I understood her invasive thoughts in the best way. I also love how Green included the very real and difficult parts of mental illness – personal struggles, mental battles and therapy sessions that were portrayed as a postive and helpful part of Aza's life. We need more of that in YA!
I loved the plot and I felt the mixture of romance, contemporary and even hints of mystery were done really well. Green did a great job of (thank you), keeping the romance underlying and not letting it take over the book. Friendship and family realationships were also explored deeply and I really appreciate the balance he managed to find. I love how the romance didn't 'fix' Aza's mental illness – that can happen too much in YA and make it completely unrealistic and unrelatable.
"I mean, anybody can look at you. It's quite rare to find someone who sees the same world you see."
This may seem like a random point and isn't something I'd usually mention, but I saw a review which mentioned the technology in this book and I completely agreed with them. The characters use technology as teenagers actually do, and I have to agree that Green got it spot on.
I also have to mention the ending before I go. I found it perfect for the book. Even though it's not definite, it included a lot of hope and I really like that from an ending. It left things open but not too open. It had perfect balance.
So overall this book is a really easy but enjoyable read. I think it represents YA really well and it has a lot of really good points. And even though I might not be the biggest Green fan…I don't think I can complain. This book just has to be awarded a solid 4.5 stars from me.
★★★★★
-Beth
May your shelves forever overflow with books! ☽
| Goodreads |Instagram | Tumblr | Twitter | YouTube | Facebook | Redbubble |