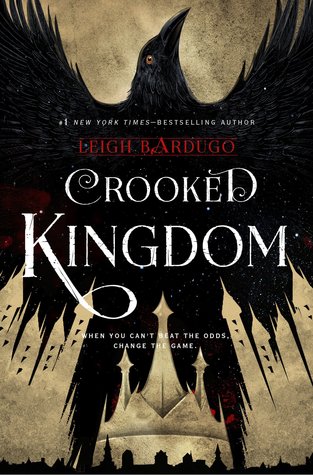 Kaz Brekker and his crew have just pulled off a heist so daring even they didn't think they'd survive. But instead of divvying up a fat reward, they're right back to fighting for their lives. Double-crossed and badly weakened, the crew is low on resources, allies, and hope. As powerful forces from around the world descend on Ketterdam to root out the secrets of the dangerous drug known as jurda parem, old rivals and new enemies emerge to challenge Kaz's cunning and test the team's fragile loyalties. A war will be waged on the city's dark and twisting streets―a battle for revenge and redemption that will decide the fate of the Grisha world. 
This book broke my heart. And it made me feel so whole. I love that this is a duology, even though I adored these characters and the world and I didn't want to leave them, it just kind of works. And as excited as I am to hear about King of Scars, this duology is just perfect as it is. Yay for duologies.
I've always said the hardest books to review are the ones you loved the most, and I am completely standing by that sentence right now. This book was set in a magical world, with beautiful words and in depth characters. I just can't match up to that.
"She smiled then, her cheeks red, her cheeks scattered with some kind of dust."
Just going to give a little shoutout to Emma, who inspires me so much and who wrote a review I love. I wish I could be that good with words!
I'm shocked at how much I enjoyed this book compared to Six of Crows. I'm not saying it was bad – far from it – but I just enjoyed this book so much more. Maybe it's because I now class myself as a fantasy reader, and with every fantasy book I love I find the gateway to the genre open a little more.
Maybe I enjoyed it more because we explored much more of the world in Crooked Kingdom, and I love how the book followed a number of locations. And can we just talk for a minute about character development. Hell, I have never seen an author define their characters so well. I felt so close to each of the 6 POV, and I think that's so rare in YA, to know exactly how each character is feeling in relation to the whole story and each separate character. To see the differences and definition in each beautiful soul and exactly how they work together like clockwork is so impressive.
"It was a smile he thought he might die to earn again."
I might not be the best with words in these situations, but I do want to say something. This book shines. It is a rarity. It is 3D in a world of 2D. It is a, simply, an absolute gem. And if you love fantasy, please, I beg you, go and read this series.
★★★★★
5 stars
-Beth
May your shelves forever overflow with books! ☽
| Goodreads |Instagram | Tumblr | Twitter | YouTube | Facebook | Redbubble |
You may also enjoy: Six of Crows review