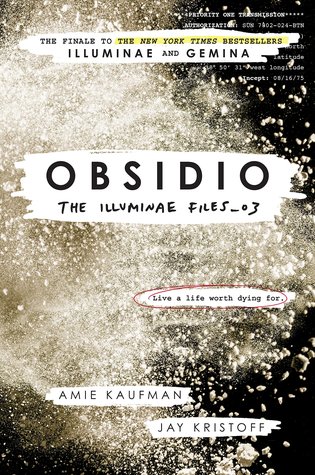 Goodreads | Amazon
Kady, Ezra, Hanna, and Nik narrowly escaped with their lives from the attacks on Heimdall station and now find themselves crammed with 2,000 refugees on the container ship, Mao. With the jump station destroyed and their resources scarce, the only option is to return to Kerenza—but who knows what they'll find seven months after the invasion? 
Meanwhile, Kady's cousin, Asha, survived the initial BeiTech assault and has joined Kerenza's ragtag underground resistance. When Rhys—an old flame from Asha's past—reappears on Kerenza, the two find themselves on opposite sides of the conflict. 
With time running out, a final battle will be waged on land and in space, heroes will fall, and hearts will be broken.
Wow, unpopular opinion much. I know there is much love around this series and I'm sorry, but my opinion seems to be the complete opposite of what everyone else thinks. Oops.
Oh my god. I didn't think it could get any worse, but reading my review of Gemina, I think I actually liked this one even less. The bottom line is, I was just even more confused because there are way too many characters in these books! Let's just have a quick throwback to me a couple of years ago when Illuminae came out. I was where everyone else was, fangirling over this new book with a completely new style of reading. I honestly think it was just so refreshing to read something so different, but since then, both books that followed just seem like retellings of the same world. I can't help but feel that success, rather than love made the authors release the other two.
"May we meet again on distant shores."
And another thing I hate about not only having so many characters, but also the camera surveillance way this story is told? I felt so damn detached. Yeah, this book is emotional and yeah, I loved the poetic parts. But I still don't give a damn what happened. Sorry for my cold heart and black soul.
Like 80% (at least) of this book was just boring and I couldn't focus. Only a small number of pages actually made me feel like I was invested or involved in the book at all. But on the other hand, this really small amount of pages…were awesome. I loved them, I felt completely in the world and I felt the emotion. And I guess I do have one popular opinion, because I LOVE AIDAN. Like, I flicked through the whole book looking for those black pages. I loved his parts, and I wanted so much more. If only the book was just AIDAN…
"Some place fine and far from here."
But that's where the good stuff ends, and other than that, I was so disappointed. I wanted it to all end so I could read better things. I'm glad I managed to finish this series, but that's about it.
Well don't let the fact that I disliked this one put you off – it's such an unpopular opinion after all!
★★
2 stars
-Beth
May your shelves forever overflow with books! ☽
| Goodreads |Instagram | Tumblr | Twitter | YouTube | Facebook | Redbubble |