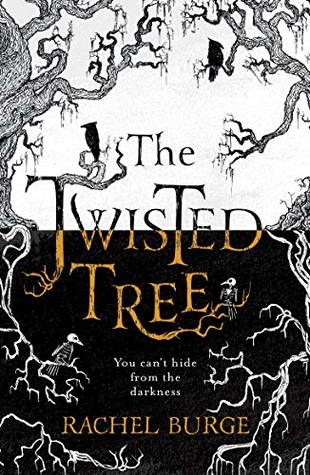 Part ghost story, part Nordic thriller – this is a twisty, tense and spooky YA debut, perfect for fans of CORALINE and Michelle Paver.
Martha can tell things about a person just by touching their clothes, as if their emotions and memories have been absorbed into the material. It started the day she fell from the tree at her grandma's cabin and became blind in one eye.
Determined to understand her strange ability, Martha sets off to visit her grandmother, Mormor – only to discover Mormor is dead, a peculiar boy is in her cabin and a terrifying creature is on the loose.
Then the spinning wheel starts creaking, books move around and terror creeps in . . .
Set in the remote snows of contemporary Norway, THE TWISTED TREE is a ghost story that twists and turns – and never takes you quite where you'd expect. 
Disclaimer: I received a copy of this book from Hot Key Books in exchange for an honest review. This has not changed my views in any way.
The Twisted Tree was the perfect book to read this week around Halloween! The story follows Martha, a girl who can read people by touching their clothes. She travels to Norway to visit her grandmother, who she later finds out has recently passed away. In her abandoned cabin, she finds an interesting boy hiding. Together, they will find themselves in the midst of some eventful, and creepy, times..
I really enjoyed this book and I'm so glad I read it in October. I found this read so interesting and unique, and I loved the Norse mythology and Norwegian setting. Both things are ones that I don't often see in YA, and were great to read about.
"You write the story of you every day with your thoughts, words and deeds."
I loved Martha as a main character, and the female power in this book! Martha talks a lot about her ancestors, and it was awesome to read about the strong link between Martha, her grandmother and her ancestors before then. Martha was perfect as the heroine of this story. She was scarred, struggling and dealing with so much. I loved her flaws, and it was so interesting (and felt realistic) to read about her struggles with having a visual impairment.
"You create yourself. You get to decide your story. No one else. You."
This book is urban fantasy, set in the real world, and I found that just brilliant. It was awesome to feel the genuine struggle of Martha and Stig coping with their struggles in the real world. I also loved reading about Martha's mum and the rest of her family. It added an extra depth to the story that was lovely to find out about.
So overall, this book was a really good read perfect for Halloween! Look out for it on January 10th!
★★★★
4 stars
-Beth
May your shelves forever overflow with books! ☽
| Goodreads |Instagram | Tumblr | Twitter | YouTube | Facebook | Redbubble |