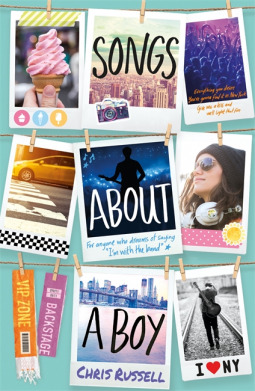 Just as Charlie allows herself to succumb to Gabe's charms, the explosive revelation about her mother's death threatens to pull them apart. Meanwhile, a media circus has exploded around the future of Fire&Lights – when they announce a US tour to show the world that they are stronger than ever, Charlie gets the opportunity to accompany them. New York City, here she comes! But it's not all fun and games. Charlie is still feeling all kinds of awkward around Gabe and knowing that her mother's last days were in America touring with her band, Charlie uses the opportunity to uncover some more truths about her mother's death.
As Fire&Lights try to win over the world again, and as Charlie and Gabriel uncover the true story that links their pasts, will Charlie finally be able to follow her heart?
I can't believe the thought ever even crossed my mind to dismiss these books as cheesy, trashy fanfic. They are so much more than that. I picked this 400+ page book up on Sunday night, and I had finished it by Tuesday. For me, that's absolutely insane. And I've not exactly been at home all that time – I've been looking after the flat, going out and going to uni. But this book just absolutely flew by for me, and whenever I had a spare minute I would pick it up and dive right in.
That being said, I can't totally dismiss the cheese or the trash. Because honestly, it does have those elements. It's a bit like looking back on High School Musical. You can't believe how cheesy it is, but you would watch it with your girlfriends any day of the week. It's unrealistic, dramatic and far fetched. But goshdarnit, it is good.
This is for sure a complete guilty-pleasure read, but I can't deny that it's very well written. Every single character in this book holds their place and has a lot of depth, and that's just so hard to do! To be able to build such individuality into so many people – especially the band, the management team and even Melissa's family – is so impressive.
Being 19, I'm definitely way out of the target audience for this series. But the 13 year old inside me couldn't put this down, and made me reminiscent of the simpler way I used to read. It's perfect nostalgia for those years, of loving the sweet teenage relationships and band obsessions.
Unfortunately, I can't put enough emphasis on the far-fetched concept of this book. Charlie is a 16 year old girl flying around the world photographing a band, with little to no equipment or professional photography training. As I'm studying photography at uni, this was a little hard to get out of my mind. No one around me would even dare to dream of having an opportunity like this, and most of those people are already starting their professional careers.
Overall, I would definitely say go for these books! Just make sure you clear your mind beforehand, and understand that this is going to be a drama-filled, unrealistic but wonderful rollercoaster. Sit back and enjoy the ride!
★★★★
4 stars
-Beth
May your shelves forever overflow with books! ☽
| Goodreads |Instagram | Tumblr | Twitter | YouTube | Facebook | Redbubble |