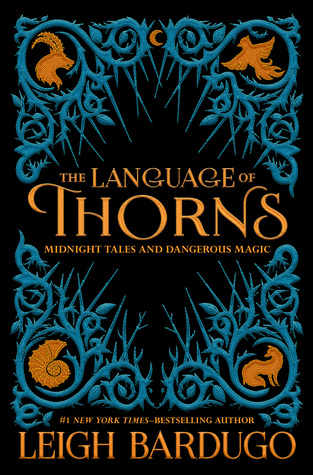 Travel to a world of dark bargains struck by moonlight, of haunted towns and hungry woods, of talking beasts and gingerbread golems, where a young mermaid's voice can summon deadly storms and where a river might do a lovestruck boy's bidding but only for a terrible price. This collection of six stories includes three brand-new tales, all of them lavishly illustrated with art that changes with each turn of the page, culminating in six stunning full-spread illustrations as rich in detail as the stories themselves.
This book is absolutely stunning. I can't believe it's taken me until now to read this, but I find short stories so hit and miss! Some (*cough* Tales of Beedle the Bard *cough*) can be blatant gimmicks. And others, like this, can be downright beauty.
I am so, so happy that this one fell into the latter. All 6 of these stories are based on classic fairytales, but with a new and fresh take set in the Grisha universe. I haven't actually read the Grisha trilogy yet, but I loved Six of Crows and Crooked Kingdom! What I love about this book is you don't actually have to read any of Bardugo's books to understand any of the tales.
"They pray that their children will be brave and clever and strong, that they will tell the true stories instead of the easy ones."
I actually can't chose a favourite of these stories, because they're all so beautiful in their own ways. Ayama and the Thorn Wood, The Witch of Duva and The Water Sang Fire definitely all stood out for me though! I love how each story took up around 50 pages, and I think having that time and space is just crucial for the reader to know the character enough to connect fully to the story.
I can't write this blog post without telling you all about the incredible illustrations that come with the hardback edition I own! Round every single page there's a band of illustrations which build up as the story progresses. For example, in one story we start with a fox, and slowly the band builds up until we have trees and other forest creatures around the perimeter of the double-page spread. I can't even begin to explain the beauty here, the amount these drawings add to each story and make them feel like fairytales.
"They pray for sons with red eyes and daughters with horns."
I honestly have so much to say about this book that I'm going to have to stop myself from rambling and just say this. Leigh Bardugo, you have done short stories right. I have never experienced a novella quite like this one. It stands out in the fairytale experience, and it took me to many different worlds between the pages. I found it perfect for this festive time of year, so comforting and interesting. I'm sure these stories are ones I will come back to many times again!
★★★★★
5 stars
-Beth
May your shelves forever overflow with books! ☽
| Goodreads |Instagram | Tumblr | Twitter | YouTube | Facebook | Redbubble |