Twelve Days of Christmas – Day 7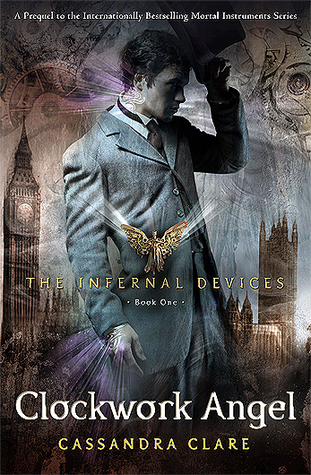 In a time when Shadowhunters are barely winning the fight against the forces of darkness, one battle will change the course of history forever. Welcome to the Infernal Devices trilogy, a stunning and dangerous prequel to the New York Timesbestselling Mortal Instruments series.
The year is 1878. Tessa Gray descends into London's dark supernatural underworld in search of her missing brother. She soon discovers that her only allies are the demon-slaying Shadowhunters—including Will and Jem, the mysterious boys she is attracted to. Soon they find themselves up against the Pandemonium Club, a secret organization of vampires, demons, warlocks, and humans. Equipped with a magical army of unstoppable clockwork creatures, the Club is out to rule the British Empire, and only Tessa and her allies can stop them…
I can't believe it's taken me so long to get around to these books, but in some ways I'm glad I'm reading this book now, when fantasy is coming round to being one of my favourite genres. Also quick shoutout to one of my best friends Chloe who I'm buddy-reading this with! It's so much fun to have conversations about our reactions to all the twists and turns in these books.
I really love Tessa as a protagonist and it's so awesome that she's a woman in these times and this kind of magical community! I love how Clare doesn't shy away from conversations Tessa has with other female characters and the discussions this book brings up are so important. I can't wait to read more of them in the next two!
""One must always be careful of books," said Tessa,"
I also have to talk about this brilliant plot! I felt as though I was eased into the story, which picked up around halfway and then BAM, the real action started. It was so wonderful to read such well written fight scenes and so many plot twists! Doing a buddy-read made me very aware of the moments that shook me, because I was quickly on the phone and messaging Chloe to tell her how I was reacting. It's making this experience so special!
Clare portrayed a magical and vivid view of Victorian London, and the Steampunk vibe is perfect. It's such a unique feel to fantasy, and really makes this world stand out from so many others.
""and what is inside them, for words have the power to change us.""
Overall I'm loving this book and it's so nice to be back in a brand new fantasy world! I have a lot of these books to go but it's awesome to have so many to look forward to.
★★★★★
5 stars
-Beth
May your shelves forever overflow with books! ☽
| Goodreads |Instagram | Tumblr | Twitter | YouTube | Facebook | Redbubble |