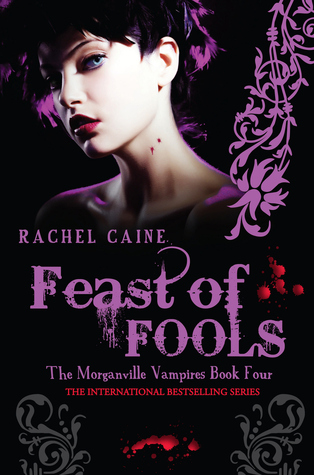 In the town of Morganville, vampires and humans live in relative peace. Clare Danvers has never been convinced, though – especially with the arrival of Mr. Bishop, an ancient, old-school vampire who cares nothing about harmony. What he wants from the town's living and its dead is unthinkably sinister.
Yes, we're back! I can't even describe how much better Feast of Fools was compared to Midnight Alley. Although the pacing can still be a bit off in places, I found the second half of the book especially fast and interesting. I've been flying through all of these books, but I definitely hit a lull at the end of 3 and start of 4. So glad it's picked up again for me!
'"I'm gonna kill him," Eve said, or at least that was what it sounded like filtered through the pillow.
Stake him right in the heart, shove garlic up his ass, and-and-"'
I think a lot of this was due to the new characters. Having a new threat like Mr Bishop was so brilliantly written on Caine's part. I feel like after having 3 books including only people from Morganville, we definitely needed a fresh insight on the vampire community. The introduction of a new, common enemy was just perfect.
I also have to say the character growth was great. I really feel like I spent more time with the main characters in this one than any books previously. Some of my favourite scenes from Morganville are definitely just scenes between the friends, and they can be the funniest too!
'"And what?"
"When did you get home?" Claire demanded.
"Apparently just in time to hear my funeral plans. I especially like the garlic up the ass. It's…different."'
Overall, a really enjoyable read and perhaps my favourite Morganville book yet! I'm excited for Lord of Misrule now.
★★★★
4 out of 5 stars
-Beth
May your shelves forever overflow with books! ☽
| Shop | Goodreads | Instagram | Tumblr | Twitter | Facebook |