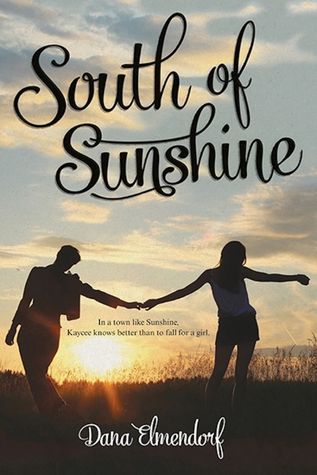 Goodreads | Amazon
Discalimer: I received a copy of this book through NetGalley in exchange for an honest review.
Release date: April 1st 2016
Synopsis: In Sunshine, Tennessee, the main event in town is Friday night football, the biggest party of the year is held in a field filled with pickup trucks, and church attendance is mandatory. For Kaycee Jean McCoy, life in Sunshine means dating guys she has no interest in, saying only "yes, ma'am" when the local bigots gossip at her mom's cosmetics salon, and avoiding certain girls at all costs. Girls like Bren Dawson.
Unlike Kaycee, Bren doesn't really conceal who she is. But as the cool, worldly new girl, nobody at school seems to give her any trouble. Maybe there's no harm if Kaycee gets closer to her too, as long as she can keep that part of her life a secret, especially from her family and her best friend. But the more serious things get with Bren, the harder it is to hide from everyone else. Kaycee knows Sunshine has a darker side for people like her, and she's risking everything for the chance to truly be herself.
I really enjoyed this book! I've read a few LGBTQA+ YA novels but none quite like this one. South of Sunshine conveys some very important messages in a great way, which I'll talk about later in this post!
The plot…is really easy to read and follow. I couldn't stop reading this book, and whenever I was away from my phone I would catch myself wondering what was going to happen next!
The characters…were actually really relatable. I was concerned that as a straight girl I would find this hard to read and relate to, but it didn't change my veiws of the novel at all!
The writing…was also easy to read, and perfect for this type of light-hearted romance.
Something I liked…is the clear message this book gives that 'You don't have to be gay to have gay pride'. This is honestly something I hold very close to my heart, and I found it really meaningful.
Something I didn't like…I'd have to be really picky to find something – but probably the fact that in a few places I found like the book had suddenly jumped. Like the sentences didn't flow perfectly. It was only a couple of times, but I did notice it.
My thoughts…South of Sunshine is an incredibly moving and undeniably touching novel. I found it sweet but tough – this book will definitely be making a stand for LGBT rights! Although the amount of conflict due to Kaycee's relationship with Bren shocked me slightly, it angered me more than anything. It is so right that this book, along with much more gay-pride arising in real life and online, we need to fight back for the LGBTQA+ community.
Whether we're straight or not, we are all the same people inside.
My rating is…
☽ ☽ ☽ ☽
4 out of 5 moons

-Beth
May your shelves forever overflow with books! ☽
---
---
---
SIDENOTE: ALL TIME LOW WERE AWESOME LAST NIGHT! Just needed to get that out there…they played some amazing stuff, even some of their old songs (COFFEE SHOP SOUNDTRACK ANYONE?!) which I was extremely pleased about! I just want to be back there right now already please!! I'm still feeling the hype 😀