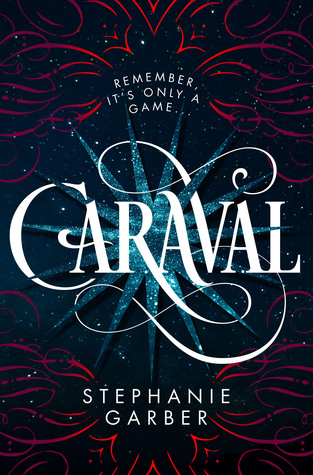 Scarlett has never left the tiny island where she and her beloved sister, Tella, live with their powerful, and cruel, father. Now Scarlett's father has arranged a marriage for her, and Scarlett thinks her dreams of seeing Caraval, the far-away, once-a-year performance where the audience participates in the show, are over.
But this year, Scarlett's long-dreamt of invitation finally arrives. With the help of a mysterious sailor, Tella whisks Scarlett away to the show. Only, as soon as they arrive, Tella is kidnapped by Caraval's mastermind organizer, Legend. It turns out that this season's Caraval revolves around Tella, and whoever finds her first is the winner.
Scarlett has been told that everything that happens during Caraval is only an elaborate performance. But she nevertheless becomes enmeshed in a game of love, heartbreak, and magic with the other players in the game. And whether Caraval is real or not, she must find Tella before the five nights of the game are over, a dangerous domino effect of consequences is set off, and her sister disappears forever.
Oh. My. Gosh. Where do I even start with this book? Well, let's just say it took me only 2 days to finish this 407 page novel – and I wouldn't say I'm a quick reader!
"Whatever you've heard about Caraval, it doesn't compare to the reality.
This book is poetry. It is a spell, cast over every single reader. It is majestic, enchanting and truly mind-boggling. Stephanie has created such an amazing world in my head, and it has completely taken over my brain for the past couple of days.
It's more than just a game or performance.
For a book with so many twists and turns, I also managed to follow every word. That is truly impressive for me. And for a fantasy book to capture my attention for that long, for so many hours when I should have been doing work, to inspire me to make both a playlist and a mood board (coming Thursday!), this book is just simply awesome.
Also, the romance isn't cheesy! I'm going to try and do this spoiler-free, but OHMIGOD SHIPPING. SERIOUSLY. I SHIP THOSE TWO SO DAMN HARD. It wasn't insta love. I didn't know what was going to happen at any time. All of the reveals in this book came as a surprise – everything was so incredibly original!
Okay, so as you know I don't usually fangirl over a novel, or characters. In fact, I don't think I've ever felt so invested in a fantasy world as I do now. I feel like this book has twisted my mind into loving circuses and carousels and beautiful, twisted cities with rivers for roads.
It's the closest you'll ever find yourself magic in this world."
As you can probably gather, I also adored this world. Yes, it was dark and creepy. It was full of secrets and lies. It was twisty, and twisted. But at the same time, it was intriguing and captivating and just truly magical.
Stephanie Garber, I don't know how I'm going to even attempt explain to you how grateful I am for your novel. This has to be the first fantasy I have truly fallen in love with, and is definitely the best fantasy I've ever read…and my favourite of the year so far. To put it simply – I LOVE YOU.
Oh, and to back up my claims about this book, it's been out for only 21 days and it already has over 6000 Goodreads ratings. If that's since the release, over 285 people have rated this book a day. And it has an overall rating of 4.14 stars. That means it has a higher rating than The Night Circus and Red Queen – two of the most famous, most hyped fantasy novels in YA fiction. No wonder everyone is talking about this novel.
So, without a doubt this book simply has to be given 5 moons from me. Gods teeth, it gets more than that. I'd give it 100 if I could!
P.S. UM. THIS BOOK IS GOING TO BE A MOVIE. FOX HAVE OFFICIALLY PURCHASED THE RIGHTS. I'M SO EXCITED!!
-Beth
May your shelves forever overflow with books! ☽
| Goodreads | Instagram | Tumblr | Twitter | YouTube |