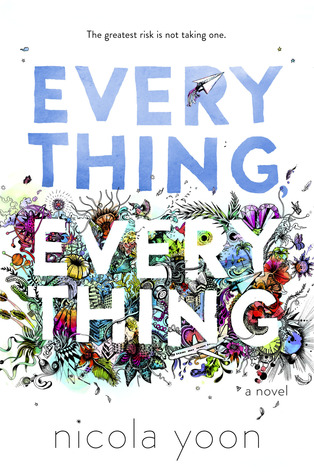 My disease is as rare as it is famous. Basically, I'm allergic to the world. I don't leave my house, have not left my house in seventeen years. The only people I ever see are my mom and my nurse, Carla.
But then one day, a moving truck arrives next door. I look out my window, and I see him. He's tall, lean and wearing all black—black T-shirt, black jeans, black sneakers, and a black knit cap that covers his hair completely. He catches me looking and stares at me. I stare right back. His name is Olly.
Maybe we can't predict the future, but we can predict some things. For example, I am certainly going to fall in love with Olly. It's almost certainly going to be a disaster.
Before I start: This review is spoiler free! You can carry on at your leisure.
To celebrate the US release of Everything, Everything, here I am with my book review!
Wow. I don't even know where to start. Let's just say this was a refreshing read after Thirteen Reasons Why. It was just what I needed – to find my love for books again.
"I was trying so hard to find the single pivotal moment that set my life on its path. The moment that answered the question, 'How did I get here?'
Let's try and break this up into a manageable review, and stop my head spinning around and around at the emotions I feel towards this book.
I always say the best books are the ones that make you feel everything. And this book did. I felt everything along with Maddy – I laughed at Olly's sense of humor, I felt despair at her condition and the restrictions it included, I felt joy at her sense of adventure, anger at the plot twist and finally, hope.
That is what I loved most about this book – among many other things – the emotions. The journey. The sheer inability to guess what was going to happen.
But it's never just one moment. It's a series of them. And your life can branch out from each one in a thousand different ways.
So why has it taken me so long to get round to reading it? After all, it's been on my TBR since release. Honestly, the hype put me off. That might sound ridiculous – but I was in a bitter post-TFIOS stage and I didn't want to read anything with too much hype because I thought it would all disappoint me.
How wrong could I possibly be? Instead of hating this book, it's become my favourite of the year so far. It might even stay there for my end of year summary.
Maybe there's a version of your life for all the choices you make and all the choices you don't."
So..why? Becuase I just felt like everything in this book fit together. It had everything. It had characters I understood and felt a connection towards. It had perfect – yet cliche – romance. It had lovely, flowing, poetic writing that didn't feel over the top in it's beautiful quotes. It even had an amazing plot, with a plot twist I didn't see coming.
Last but not least – a shoutout to Nicola Yoon for that plot twist. Unfortunately, good plot twists are few and far between in contemporary romances. If they do occur, they're usually pretty safe and predictable. But Yoon took a risk with this one, and it paid off.
How I admire her for creating such a wonderful novel.
I give this book (undoubtedly)….
★★★★★
-Beth
May your shelves forever overflow with books! ☽
| Goodreads |Instagram | Tumblr | Twitter | YouTube | Facebook | Redbubble |