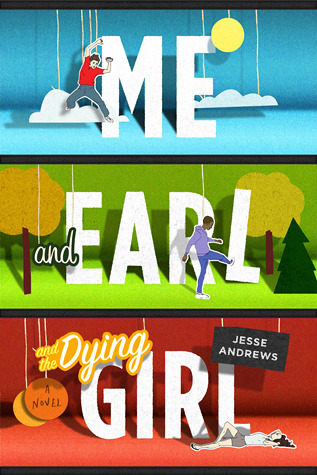 Greg Gaines is the last master of high school espionage, able to disappear at will into any social environment. He has only one friend, Earl, and together they spend their time making movies, their own incomprehensible versions of Coppola and Herzog cult classics.
Until Greg's mother forces him to rekindle his childhood friendship with Rachel.
Rachel has been diagnosed with leukemia—-cue extreme adolescent awkwardness—-but a parental mandate has been issued and must be obeyed. When Rachel stops treatment, Greg and Earl decide the thing to do is to make a film for her, which turns into the Worst Film Ever Made and becomes a turning point in each of their lives.
And all at once Greg must abandon invisibility and stand in the spotlight.
I've been so distracted by life recently that even reading has taken a backseat. Yep, even reading. But honestly, I'm not too bothered. I'm ahead of my Goodreads goal, and I only need to read a book every week and a half to complete that!
Okay I don't even know where to start with this book? Did I like it? I have no heckin' clue. Was it good? I don't know. It was weird, I'll give you that. It was unlike any book I've ever read before, and that's kind of…impressive.
But I unfortunately can't say I enjoyed it. First of all…I didn't really like Greg. I found him really insensitive, annoying and just plain weird.
"There was just something about her dying that I had understood but not really understood, if you know what I mean."
One of the best parts of this book has to be the humour, but I even found that really off and insensitive. Sure, I laughed, but it also felt wrong. Jesse has the perfect opportunity to make this a deep and meaningful book about friendship and death, but most of it felt so off the mark for me.
Let's talk a bit about the film part of this book. Greg and Earl were 'filmmakers', which should be great, make them rounded characters with genuine interests and make me (as a media student) very happy. But these guys didn't have a clue. They literally had no idea. If someone has a genuine interest in film, they should know a bit about lighting and camera angles and shots and ideas. But they had made and edited several films and I wasn't impressed by the sound of any of them. Frankly, they all sounded awful.
"I mean, you can know someone is dying on an intellectual level, but emotionally it hasn't really hit you, and then when it does, that's when you feel like shit."
Greg was actually the biggest thing I had wrong with this book. He was also extremely annoying in the way he judged girls on the size of their boobs and kept complaining about how unnattractive people were. Like what? Really?
Before I stop ranting, I have one more thing I have to say. This book seemed so pointless. Like, the title literally happened. That was about it.
★★
-Beth
May your shelves forever overflow with books! ☽
| Goodreads |Instagram | Tumblr | Twitter | YouTube | Facebook | Redbubble |