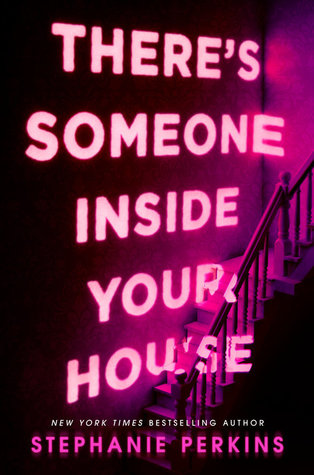 Love hurts…
Makani Young thought she'd left her dark past behind her in Hawaii, settling in with her grandmother in landlocked Nebraska. She's found new friends and has even started to fall for mysterious outsider Ollie Larsson. But her past isn't far behind.
Then, one by one, the students of Osborne Hugh begin to die in a series f gruesome murders, each with increasingly grotesque flair. As the terror grows closer and her feelings for Ollie intensify, Makani is forced to confront her own dark secrets.
I've wanted to read this book since wayyy before the release, and I had the perfect opportunity while I was in Wales on holiday last week!
Okay, this was interesting. I don't even know how to describe how I feel about this one…so mixed! Firstly, it's kind of weird to read this book afterPerkins' other stuff. I'm sorry, but she is not a horror writer in my eyes.
"Neither of then was a monster."
I've been reading a couple of Goodreads reviews and I've definitely found the best way to describe this book is this. It's like a cheesy high school slasher movie in book form. Take Scream, but halfway through the movie you know who the killer is and the book just seems to carry on. It must obvious so far I have a few issues here. But saying that, I certainly didn't dislike it.
For one, this book actually made me laugh out loud. Like, I really don't laugh at books, even Me and Earl and the Dying Girl didn't make me burst into giggles. But there were some incredibly ridiculous sentences that made me had to put the book down and explain why I was giggling.
"She was a human who had made a terrible mistake."
I really enjoyed reading about the characters, and I'm happy to say this book is really diverse. Makani made a great main character and I enjoyed reading about her background in Hawaii and her Grandma was great! I love that her Grandma was a big part of this novel, because families aren't usually so included. However, I do wish her two best friends (Darby and Alex) had a little more development.
Unfortunately, the big twist about Makani's 'dark background' did disappoint me. It was built up to be such a big and bad thing that I actually expected a hell of a lot more. I won't say anything else because of spoilers, but there was just a lot of build up, and in the end I don't think all of it was needed, or it should have been a bigger twist.
"(S)he was a human who had planned his/her terrible actions."
(Added gender terms due to spoilers!)

And finally, can we just mention that ending. Like, if anything, the book should have started after, and had what Makani ended on as the goddamn dark background. Unfortunately, it all went downhill at the end for me. Although I can kind of appreciate why it ended like it did, it literally destroyed this book for me.
I actually can't explain why I hated the ending so much, but I have to remember that I did really enjoy reading pretty much all of this book (apart from the end). I did find it funny, thrilling, diverse and all round enjoyable to read. It had just the right amount of gore/horror for me and the romance was done well in my opinion. So I'm very mixed,  and let's leave it at that.
★★★
-Beth
May your shelves forever overflow with books! ☽
| Goodreads |Instagram | Tumblr | Twitter | YouTube | Facebook | Redbubble |