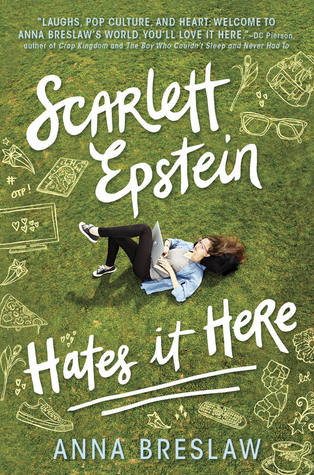 Meet Scarlett Epstein, BNF (Big Name Fan) in her online community of fanfiction writers, world-class nobody at Melville High. Her best (read: only) IRL friends are Avery, a painfully shy and annoyingly attractive bookworm, and Ruth, her weed-smoking, possibly insane seventy-three-year-old neighbor.
When Scarlett's beloved TV show is canceled and her longtime crush, Gideon, is sucked out of her orbit and into the dark and distant world of Populars, Scarlett turns to the fanfic message boards for comfort. This time, though, her subjects aren't the swoon-worthy stars of her fave series—they're the real-life kids from her high school. And if they ever find out what Scarlett truly thinks about them, she'll be thrust into a situation far more dramatic than anything she's ever seen on TV…
This book has left me with very mixed feelings. I loved it, and I was bored. It was easy to read, but I didn't find it exciting or entertaining.
I wouldn't say I disliked Scarlett as such, but I didn't have much of a connection with her either. I don't know how to describe this, but I found her…young. She was just so naive. Although I did like parts of her, I felt her character wasn't developed that well. I also felt she could be a little nasty to some of the other characters for no reason. And her fascination with her crush?
You've barely talked in 4 years
He's not, like…yours?
Why do you like him? Again, I want more character development. I want to know more about who is as a person (other than he likes comedy).
"The best parts of life aren't clear-cut or obvious—they don't have neat endings"
I unfortunately felt similar feelings for all of the characters. I love that this book had a variety of different characters, but I couldn't help but be confused among some. Take Ruth and Dawn for example. It took me like half the book to realise which was which.
I have to say, I found this one really easy to read. I literally read 80 pages in about 45 minutes. I got through this one so quickly and I loved it because of that.
"I know it's your inclination to skip to the end, but you can't just focus on how it's all gonna turn out."
I also actually thought the fanfiction was done pretty well and I enjoyed the story within the story.
And one last criticism is the ending. I can't remember much about it, but I wish more things were tied up. It just felt a little…empty.
So there's plenty of negatives, but I can't say I didn't enjoy it.
★★★
-Beth
May your shelves forever overflow with books! ☽
| Goodreads |Instagram | Tumblr | Twitter | YouTube | Facebook | Redbubble |