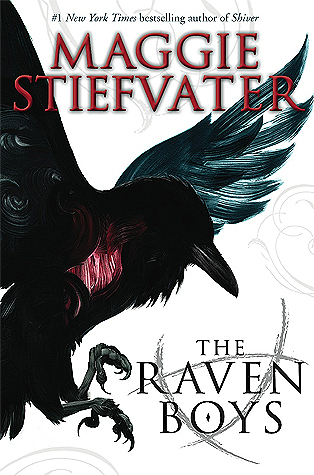 Even if Blue hadn't been told her true love would die if she kissed him, she would stay away from boys. Especially the ones from the local private school. Known as Raven Boys, they only mean trouble.
But this is the year that everything will change for Blue.
This is the year that she will be drawn into the strange and sinister world of the Raven Boys. And the year Blue will discover that magic does exist.
This is the year she will fall in love. 
I can't believe I didn't carry on with this series the first time I read this book! I picked this up over 2 years ago now in 2016 and I remember really enjoying it. However, I didn't own the entire series and due to that it has taken me until now to finally decide to carry on reading them! I couldn't remember what happened at all though, so hence I decided to pick the first one back up and re-read it before I continue.
"She wasn't interested in telling other people's futures."
And I'm so glad I did because I feel like I've discovered this book all over again! This series is incredibly compelling, and I know it won't take me long to get through the rest. It did take me a while to start becoming obsessed with the story, but I'm definitely there now and I can't stop thinking about Blue's life.
The first thing that came into my head when reading this book is the originality. I have to admit I have never read a YA book like this one, and that is a bold statement to make, and an incredible thing for an author to achieve.
"She was interested in going out and finding her own."
I have so much praise for the amazing woman that is Maggie Stiefvater. I could go on forever about what I love about this book, but let's start with her writing. Easy to read but randomly poetic. Very page-turning but also made me stop and think wow how does someone do that?
The only slight issue I had was this book really ramps up like 100 pages in and the pacing was incredibly slow to start with? It honestly took me around half the book to go from 'it's okay' to 'omg this is the best thing ever'. Aside from possibly Ronan, who I unfortunately found very 2D, I also love the colourful complex cast of characters Stiefvater has created. Blue is so mature, never whines and is all around calm and cool and intriguing. And I found the other boys so fascinating to read about and very vibrant and alive (ahem).
So to sum up, this book is unique and original and unlike anything I've read before. If you're looking for something a little different, I URGE YOU TO READ THIS.
★★★★★
5 stars
-Beth
May your shelves forever overflow with books! ☽
| Goodreads |Instagram | Tumblr | Twitter | YouTube | Facebook | Redbubble |