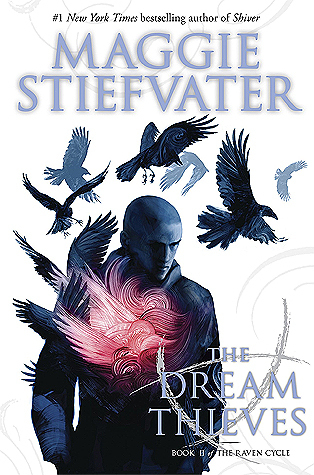 Now that the ley lines around Cabeswater have been woken, nothing for Ronan, Gansey, Blue, and Adam will be the same. Ronan, for one, is falling more and more deeply into his dreams, and his dreams are intruding more and more into waking life. Meanwhile, some very sinister people are looking for some of the same pieces of the Cabeswater puzzle that Gansey is after…
I am adoring this series. It's taking up so much space in my head at the moment because I literally can't stop thinking about these books and these characters and this story. I can't even function because these books are so compelling and I couldn't put this one down. I mean this very literally, because I was looking so hard at the page while reaching for a cup of tea that the tea ended up spilled on the bed. Oops.
"In that moment, Blue was a little in love with all of them."
But despite all the love and fangirling, I have got to admit I had a few very minor problems.
I genuinely think Maggie has a little bit of a problem with pacing. Like, I started this book a little slow but the second half arrived and BAM. I couldn't put it down.
I still don't love Ronan. Sure, I understand more about his inner demons but he's still a bit of a pr*ck to me, and not much of a likeable character.
But oh well, because the other boys (especially Noah HELLO), I loved. There is a scene in this book which features him and Blue (I'm sure you know which one I mean if you've read this book), that made me adore his spooky little self. Also, I loved the villain and the focus on every single character in this beautiful story and how they work together. They all seemed to be drawn together in this book and I really enjoyed the focus on each of them.
"Their magic. Their quest. Their awfulness and strangeness.
Her raven boys."
I'm still very much in love with Maggie's writing. She comes out with so many beautiful sentences, it makes me want to stop and just breathe it all in for a moment. In conclusion, I wanted to knock half a star off this for the bad pacing, but I couldn't bring myself to do it. I love this series.
★★★★★
5 stars
-Beth
May your shelves forever overflow with books! ☽
| Goodreads |Instagram | Tumblr | Twitter | YouTube | Facebook | Redbubble |